Figures 1, 2, 3 and 4 show the principle of operation of the record selector mechanism. Two oppositely positioned and inwardly retractable shelves (a in the four figures) are located in the spindle. In direct association are two outwardly rotatable blades (b in the four figures) spaced at a definite distance above the shelves. The design is such that in the playing position (Figures 1 and 2) the shelves extend beyond the periphery of the spindle supporting the record stack and the blades are housed within the spindle. The cycling operation causes the blades to rotate out beyond the outside diameter of the spindle just before the shelves are retracted. Figures 3 and 4 show the positions of the blades and shelves, just after the record has been selected. To
RCA 186 Record Dropping Sequence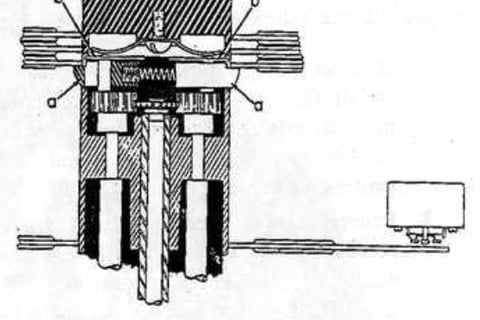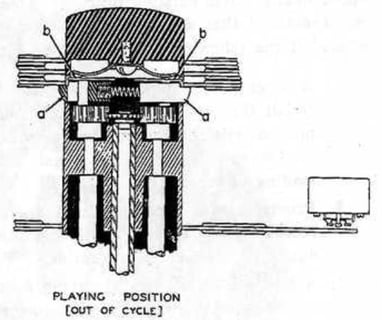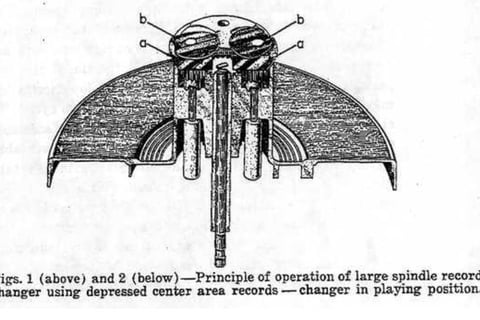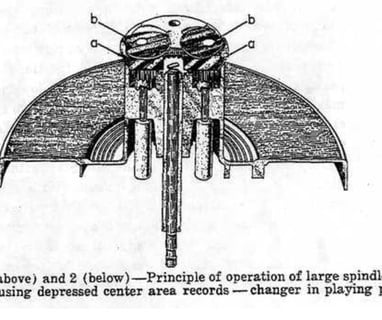 complete the cycle, the shelves move back to their normal extended position just before the blades are rotated back to their normal retracted position.
As may be seen from Figures 1 and 3, the center area of the record about the center hole is depressed on either side of the record, so that, when two records are stacked together, an air space is provided between them. The dimensions of the depressed area and the spacing between the record changer shelf and blade are such as to bring the center of the blade in line with the center of the air space provided between the records. This design offers a distinct advantage in that the records are not knived or otherwise separated, or even touched by the blade lade during the selecting operation. The aforementioned shelves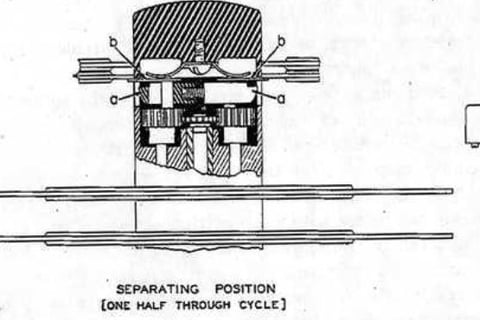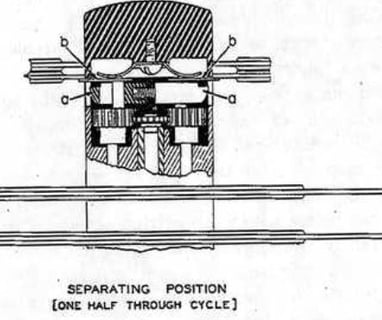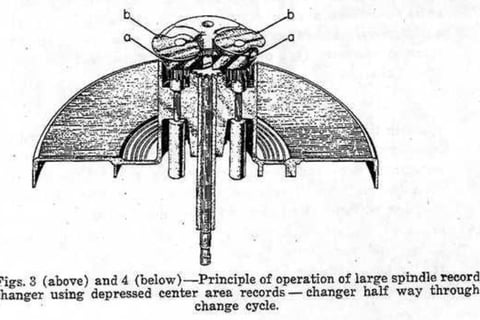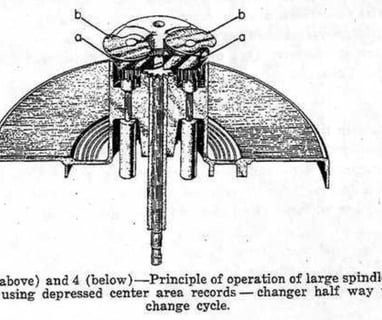 are held outward by a spring and their lower portion is shaped so as to be contained within the body of the spindle. This design causes the shelves to be pushed inwardly when records are removed from the turntable. The large diameter spindle and record center hole result in easy loading of the record changer, and the retractable shelves result in easy unloading.
The pickup unit, tone arm and tripping mechanism are designed to be consistent with the requirements of the record. The tripping mechanism is of particular interest. It is designed so that the work to trip the mechanism into cycle does not require any appreciable force between the reproducing stylus and the record groove. A small lever having very low friction is moved, by the inward motion of the tone arm, to a specific position where a lug on the turntable picks up the lever and causes it to cam the mechanism into cycle. The work of putting the mechanism into cycle is thus supplied by the moving turntable rather than by the pickup stylus and record groove.
Record changer tripping mechanisms of the common diameter type are well known for their reliability of operation and simplicity of design. With this type of trip the record can end in a concentric finishing groove rather than the 1/s" eccentric finishing groove commonly employed. This is of a very definite advantage as the finishing grooves can be cut with same cutting stylus as used for recording and without removing the wax or lacquer from the recorder. Furthermore, the complexity of cutting the eccentric finishing groove on the recorder has resulted in the practice of transferring the wax or lacquer to a special machine designed for that purpose. This practice requires extreme care to prevent damage to the recording and to produce a quiet groove as another cutting stylus is used. For these reasons a common diameter type of tripping mechanism was selected for the record changer.